I've had Campbell Air service, repair and replace my unit. The owner, Danny takes pride in his work and it's hard to find someone that is knowledgeable, trustworthy, dependable and on time…with Campbell Air Conditioning & Heating, you get that and more – a fair price! I will continue to recommend Campbell Air Conditioning and Heating to anyone needing AC or heating work because with Danny and co. you get it all.
LynnL (via Yelp)
After speaking with several HVAC folks without success as to what was wrong with the AC flow in my new (to me) house, we were referred to Danny Campbell. Danny and his team came in and actually spent the time needed to diagnose the problems correctly. Danny fully explained all of the options to correct the issues and helped us select the most cost effective way to solve each of the issues at hand. I have been dealing with many contractors to fix up the house after moving in, and i have to say that Danny stands above the rest. Danny is thourough, honest, respectful, and best of all has very reasonable prices. I would recommend Campbell Air Conditioning & Heating to anyone looking for a top notch HVAC service provider that they can count on.
LauriN (via Yelp)
If you need fast, reliable, and expert repair for your AC, call now!
My AC went out Saturday morning and by 4PM it had been fixed. With my house at a ccol 87 degrees this was exactly the kind of fast service I needed! When they came out, they immediately diagnosed and fixed my AC with the part on hand. Everything was explained and kept as simple as possible. All my questions were answered and I could not be happier.
Part fee was not too expensive, service fee was reasonable and so was the weekend overtime fee. Since some AC companies will only make an appointment when I need to be at work, this was a very small price to pay to get service exactly when I needed it!
If you need AC repair in North Dallas, this is the place to call.
LisaF (via Yelp)
Over time, I've had my AC repaired and one unit replaced by Danny Campbell. The thing I've liked the most about him is his straightforwardness and accessibility. If he doesn't pick up the phone immediately, he gets back to you quickly.
Hank R (via Yelp)
Campbell AC & Heat was a dream to work with. They were at my house quickly, diagnosed the problem with my AC unit and repaired it immediately. This was after two other very "reputable" companies had been out to provide service and failed to resolve the problem. I acquired Danny's information, and I was told he was "the very best", and he absolutely did not disappoint!! He found the issue, knew exactly what to do and fixed the AC unit in no time. If I could rate Campbell AC & Heat higher than 5 stars, I would. I will never use anyone else, ever!!
Ann C (via Yelp)
I am building a "barn-dominium" to live in while our house is built next year. In doing so, I decided to do all the construction myself. I have lots of experience in electrical, plumbing, and HVAC and decided to install my own system. My experience is dated, and I did not feel comfortable brazing the line sets, especially with the new R-410 and nitrogen flush. Plus, I did not have the equipment. So, after I got everything installed I hired an individual (NOT these guys) to braze the lines for me. He messed it all up and ruined the liquid line service valve, bled off all the freon, and generally left me in a mess.
I hunted around for someone that could help me out and found Campbell Air. I was very impressed with his knowledge and skill. I am an Electrical Engineer by training, but have several good friends that are Mechanical Engineers (one was a professor at the University of Arkansas for many years). I am well versed in thermodynamics and the refrigeration cycle, and I can tell you Danny knows his business. His equipment was very good and he knew how to use it. He was fast, professional, friendly, and very easy to work with. The brazing job he did was excellent (he replaced the liquid service valve for me). It has been working flawlessly since he finished the job for me.
When we build the house, I will be calling Campbell Air Conditioning to install the new systems! I wholeheartedly recommend them for any HVAC work!
DeWayne H (via Yelp)
I called this company due to the fact that I was having problems with another company that had done some repair work for me on Monday. My call at 8:30 on Wednesday evening was answered by Danny. And he gave me his opinion and agree to come first thing in the morning. He diagnosed exactly what the other company did wrong and a polite courteous way and gave me a free estimate to replace the outside unit and I agreed to this. he came back the same afternoon and install that for me my AC is blowing Ice Cold Air and I am so grateful thank you very much and you will always be the one I recommend.
MW (via Yelp)
Danny was helpful and attentive to any questions or concerns I had about a brand new HVAC install. Always answered on my first call (of several calls), which cant be said of many in the home repair business.
Robert M (via Yelp)
I certainly agree with the prior posts in that Danny always answers on the first call and immediately makes arrangements to diagnose the problem and make the necessary repairs. When he first diagnosed the problem with my older AC unit, he did not have the broken Control Board and said it would be a day or two before he could track one down. He left, and then surprisingly, he called me back in about two hours and said he had found a store that carried the part, was picking it up now, and he offered to come back over in an hour! Needless to say, it was repaired in that afternoon and a pleasantly surprising amount! Great service!
Edward M (via Yelp)
Campbell did a great job for us! Prompt, courteous, and very fair.
James Dalston (via Google)
Complete the form to leave a review.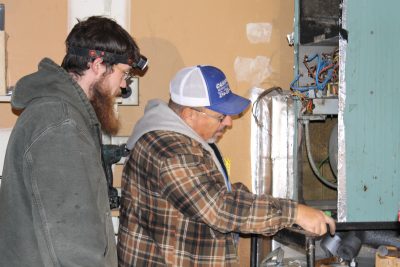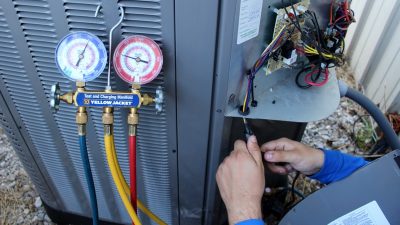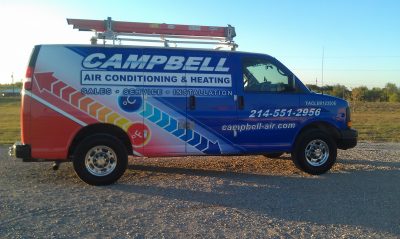 There are two things to look for when choosing an Air Conditioning and Heating Service company – experience and customer satisfaction.  You can depend on Campbell Air to provide both!
Call or email us to request service.
Financing is available for new equipment and repair of existing equipment.